Ambassadors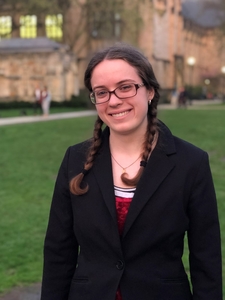 Samantha Wood (she/her/hers) is a rising senior in Saybrook College from Wolfeboro, NH, and is majoring in Religious Studies. A low-income student from a rural area, she is involved in LGBT community and is a member of the Yale Debate Association and a varsity fencer. Having interned for county attorney in New Hampshire, Sam is interested in attending law school after graduating from Yale.
Why are you involved in the FGLI Community? "I'm an FGLI Ambassador because I think that we are all brilliant, talented people and with a supportive community we can accomplish even more!"
Email: samantha.wood@yale.edu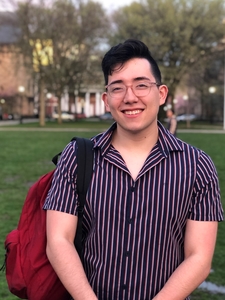 Henry Rosas (he/him/his) is a rising junior in Timothy Dwight College from Phoenix, AZ, and is double-majoring in Ethnicity, Race, and Migration and Political Science. A first-generation, low-income college student, he is currently involved with MEChA (Movimiento Estudiantil Chicano de Aztlán) de Yale and Ballet Folklórico Mexicano de Yale. Given his previous involvement in politics in D.C. and Arizona (campaigns and policy), Henry is a hopeful law school applicant. 
Why are you involved in the FGLI Community? "As FGLI students, we know that building community is essential for getting through the hardships and challenges that come with attending an institution like Yale. This year, I want to work on leveling the playing field for FGLI students so that we too can get the opportunities and experiences so many of us left our hometowns for. I hope to be more involved with our incredibly diverse community in order to build our presence on campus and make this space ours this year and in the years to follow."
Email: henry.rosasibarra@yale.edu

Esther Reyes (she/her/hers) is a junior in Ezra Stiles College from Brooklyn, NY and is majoring in Ethnicity, Race, and Migration. Her family hails from Puebla, Mexico, where her father lives. She is the first-year liaison for MEChA and manages the wardrobe for Ballet Folklorico Mexicano de Yale. She has worked with first-gen/low income communities throughout her time at Yale and will also serve as an Academic Strategies mentor this year. In her spare time, she loves to file articles for her high school Speech and Debate team, watch Now This videos, and collect earrings.
Why are you involved in the FGLI Community? "I am involved in the first gen-low income community because I have been fighting for dignified spaces for my people my entire life. Growing up in a single parent household and entering predominately white, male spaces as soon as I got to high school made me realize that my socioeconomic status did not have to determine my life. I was fortunate enough to experience constant affirmation at speech and debate tournaments and being there to affirm other low income kids on campus is how I pay it forward."
Email: esther.reyes@yale.edu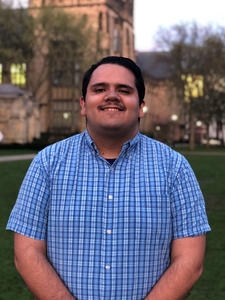 Alejandro Nuno (he/him/his) is a sophomore in Grace Hopper College from Anaheim, CA, and is majoring in Molecular, Cellular, and Developmental Biology (Neuroscience Track). A Mexican-American and first-generation, low-income student, he is a member of Ballet Folklorico Mexicano de Yale and La Unidad Latina, Lambda Upsilon Lambda Fraternity, Inc. He is also a recent recipient of Edward A. Bouchet Fellowship for research in Neurobiology, and he plans to pursue an M.D./Ph.D in the field of neuroscience.
Why are you involved in the FGLI community? "I am involved in the FGLI community because I believe that each of our unique backgrounds should be celebrated. Being first-generation, low-income is an identity that many students of different cultural backgrounds share and we should all celebrate our diversity of thought. Through our appreciation of our diversity, we will establish a strongly bonded community that shares our common identity as FGLI students. Through community building, we will remain resilient through the challenges that uniquely affect FGLI students."
Email: alejandro.nuno@yale.edu
Nadia Lartey (she/her/hers), a sophomore in Timothy Dwight College from Lansdowne, PA, and plans to double major in Latin American Studies and Mathematics. On campus she is involved in Danceworks, Oye, and DEFY (Disability Empowerment for Yalies), as well as dabbling a bit in theater. She has also volunteered with LEAP, INC (Leadership, Education, and Athletics in Partnership) as a math tutor for New Haven High School Students. She loves talking about Philly, how much she loves chocolate, and social justice issues.
Why am you involved with the FGLI community? "Navigating a space that was built on classism and exclusionary practices in general can be difficult, but especially as a person who occupies identities many FGLI share, such as identifying as a person of color or a woman. Having role models, mentors, and friends who are FGLI and share some or all of my identities was a major inspiration for me as a first-year, and I want to provide that same support for FGLI students across the university."
Email: nadia.lartey@yale.edu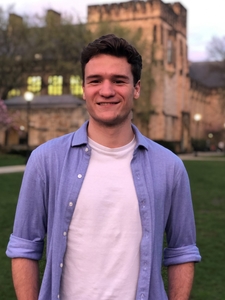 Nathan Somerville (he/him/his) is a first-year in Berkeley College from a modest town in the U.K. called Stowmarket. Given his love for design and solving complex problems, Nathan intends to double major in Architecture and Economics+Mathematics. While he is unsure what he hopes to do with his education, he aspires to run his own architecture firm after traveling the world and exploring places he has never been.
Why are you involved in the FGLI community? "As an FGLI international student, particularly from England, my role in the Yale community is a rather unique one, and I've found the transition from my hometown to an elite space like Yale to be incredibly rewarding, yet certainly demanding. It has been an unamenable journey, and in my role as Ambassador I hope to not only support others undergoing the same experience as I, but also to learn from them and how I can make the most of my time at Yale."
Email: nathan.somerville@yale.edu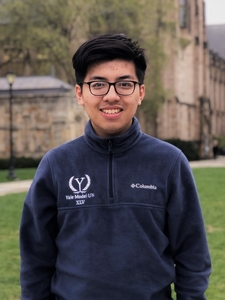 Manh-Linh (Linh) Le (he/him/his) is a first-year in Branford College from Hanoi, Vietnam, and is a potential double major in Chemical Engineering and Global Affairs. A low-income, international student, he is involved primarily in the Yale International Relations Association and Yale Movement on campus, while working with Model UN initiatives back home. Linh is interested in applying to graduate school after his time at Yale or working for an international NGO.
Why are you involved in the FGLI community? "Inasmuch as Yale has striven to be cognizant of the experiences and struggles of FGLI students, there is still a long way to go for this institution to make the Yale experience inclusive and nonburdensome. I hope to be involved with this incredible community, allow our voices to be heard, and be a part of the positive force for change for Yale in the future."
Email: linh.le@yale.edu
Previous Ambassadors
2018-2019: Fatima Chughtai (DC '19), Diana López (ES '19), Markus Reneau (SM '19), Maddy O'Neal (ES '18), Jaster Francis (BC '20), Samantha Wood (SY '20), Henry Rosas (TD '21)
2017-2018: Fernando Rojas (ES '19), Jonathan Salazar (MY '19), Peter Huang (SM '18), Kristen Wright (TD '18), Pamela Banner (TC '20), Samantha Wood (SY '20)
---
Administrative Team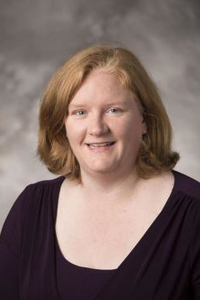 Karin Gosselink
Assistant Director of Undergraduate Writing and Academic Strategies, Poorvu Center for Teaching and Learning
Dr. Karin Gosselink (she/her/hers) directs the Academic Strategies program at the Center for Teaching and Learning, a program that runs recurring workshops on anything from time management to managing a heavy reading load. However, the workshops center the student voice and the student experience, and are lead by current undergraduate students - with a significant first-generation low-income representation - so as to connect students with mentors that can have first-hand experience with academic-related questions.
José Yobani López Sánchez
Woodbridge Fellow (YCDO & Poorvu Center), Director of The Community Initiative
José Yobani (he/him/his) was proudly born and raised in Downtown Los Angeles, CA. His work as a Woodbridge Fellow, which focuses on academic programming for first-generation low-income (FGLI) students, stems from his ongoing engagement with this community of students. This engagement started with his own involvement in the First-Year Scholars at Yale program the summer of 2014 and continued with his participation as a counselor for the program in 2017 and his research into the social experiences of FGLI students as part of his Education Studies capstone. Reflected in his scholarship, mentorship, and now his work, he is passionate about issues centered around underrepresented students in education, and more specifically those considered disadvantaged by their race/ethnicity, socioeconomic status, and legal status. José graduated with a B.A. in Chemistry in 2018.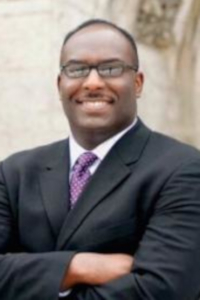 Burgwell (Burgie) Howard
Senior Associate Dean of Yale College, Associate Vice President of Student Life
Dean Burgie Howard (he/him/his) supports the college's growing population of first-generation students, programs such as Freshman Scholars at Yale (FSY), student-athletes, and students involved with fraternities and sororities. He also supervises and supports the cultural centers, and he serves on the Schwarzmann Center committee.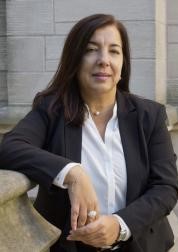 Sílvia DeCastro
Senior Administrative Assistant, Yale College Dean's Office
Sílvia DeCastro (she/her/hers) provides primary support to the Associate Dean for Student Engagement. Sílvia is originally from São Paulo, Brazil. Her first job after college was in the Department of Italian Language and Literature where she worked for the Chair and with the graduate student population at Yale from 1983-88.  After working as an executive assistant in several multinational corporations in Brazil, she returned to Yale in 1995 as Executive Assistant to Sterling Professor Edward Zigler in the Department of Psychology. She then joined the Yale College Dean's Office where she has worked as Senior Administrative Assistant II in the Office of Student Affairs; and now in the Office of Student Engagement. Sílvia is a skilled polyglot; she is fluent in Portuguese (native), English, Italian and Spanish. On her free time, you will find her near the ocean whenever possible, and travelling is always on her mind. She is, of course, a huge soccer fan.