Winter Clothing Grants
Connecticut winters can be frigid, but the Yale College Dean's Office (YCDO) can offer Winter Clothing Grants to students with financial need, who are unfamiliar and underprepared for winter. These grants can help new low-income students who come from warm climates get winter basics (e.g. coat, boots, gloves) to manage the New England winter months. Students are only eligible for the grant once throughout their time at Yale.
In order to receive a Winter Clothing Grant worth up to $300, students must apply for funding through Safety Net. Your application will then be reviewed within two to five business days and, if approved, you will be connected with a member of the Community Initiative team to begin the clothing-ordering process. (Note: Applications for Winter Clothing Grants are highest in December, and might take longer than usual to be reviewed.)
Your funds can used in one of three ways:
Reimbursement through a petty cash voucher

Note: Please refrain from making purchases until you are granted a Winter Clothing Grant and​ get official instructions on getting reimbursed. The Yale College Dean's Office is not responsible for reimbursements of purchases made beforehand.

Online purchases made by and delivered to the YCDO (located on the 2nd floor of 55 Whitney Ave.)
Through a voucher letter that can be used at the local L.L. Bean (located at 272 Elm St.)
Winter clothing - preferential consideration for: 
High-need students unfamiliar with winter weather
First and Second year students
Students who were ineligible to receive a Start-Up Grant
For more information about dressing for winter, check out this Cheat Sheet created by The Community Initiative.
Requests Considered: October 3rd - January 31st 
Career Closet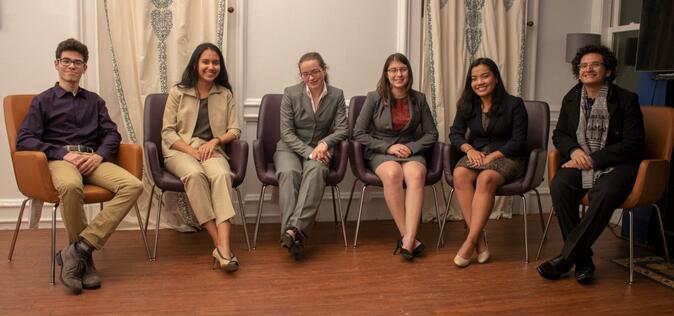 In partnership with the Asian American Cultural Center at Yale (AACC, located at 295 Crown Street), the Community Initiative has developed the Career Closet​, a source of professional clothing for students that need professional attire for interviews, receptions, and all other formal events.
To see our inventory for Men's clothing please click here, to see our inventory for Women's clothing, please click here. 
For those interested in borrowing clothing from the Career Closet, please fill out the following Career Closet Request Form to set an appointment to browse through or pick up your items of interest. Please make all appointments at least 24 hours in advance.
Note: Due to health concerns regarding Covid-19, the Career Closet will not be in operation during the fall 2022 semester.
Laptop Loans
Students in need of a computer repair should be in touch with the Student Technology Collaborative (STC).The student walk-in centers are available to address technology issues for students' personal devices, including labor charge free repairs to laptops. However, if you are in need of a loaner laptop for an extended period of time (e.g. a semester) the Yale College Dean's Office has laptops available for loan via the Yale SafetyNet request process. Students seeking help with the repair costs for their computer should also submit a request through SafetyNet.